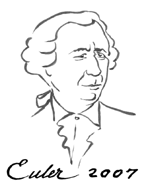 Rencontres
La traduction française de cette page n'est pas disponible.
On the occasion of the Tercentenary, the members of the Euler Commission aim at reflecting on the life and works of the great Swiss scientist within the circle of experts who build on Euler's insights in their own research; but they also hope that the general public will profit from the opportunity for all kinds of encounters with mathematics, the exact sciences, and the history of science.
In considering this eminent intellectual who put Switzerland on the intellectual map of Europe in the 18th century, some questions can be discussed which still concern the scientific community and society as a whole:
the difficult relationship between an individual's excellence and his or her background in society
structures for encouraging and supporting scientific talent which respect both individual needs and society's legitimate demands
the fact that research, even if motivated by particular, often transitory, considerations, may well open up perspectives extending into an indefinite future
the competition between "pure" and "applied" science.
A look at Euler's achievements will contribute to a fruitful dialogue between those who today stand up for scientific education and research, and society's decision-makers.
Questions of this nature will, in particular, characterize the Congress of the Swiss Academy of Science (SCNAT), which will be held in autumn 2007 at Basel, within the framework of the Euler Tercentenary.
Bulletin
ACTUALITÉ Le sixième bulletin d'information.

Lire ...
Gymnase d'Yverdon
Exposition au Gymnase d'Yverdon

Voir ...
Congrès SCNAT
Exposé de Prof. Jürgen Mittelstrass et communiqué de presse.

Télécharger ...
---
v1.2.07/fr