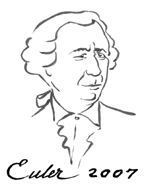 Exhibition on Euler's life and work
From March 17th to June 9th, 2007, the Public Library of Basel University shows an exhibition on
"Leonhard Euler and the delights of science -
Basel congratulates the great mathematician on the 300th anniversary of his birth"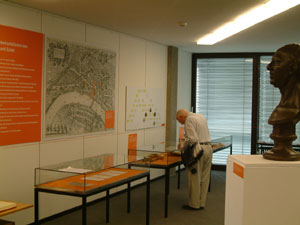 The exhibition offers a lively insight into Leonhard Euler's life and work, presented for a general public. Guided by his autobiography, we will perambulate the main stages of his biography in Basel, St. Petersburg, and Berlin; his enormous scientific oeuvre will be exemplified by one work from each of these periods. As befits an exhibition in Euler's native city, his Basel roots and the first scientific activities of his youth will be particularly emphasized.
As a sample of the countless problems Euler treated, the determination of the sum of the reciprocals of the square numbers will be presented by a series of original documents. Euler solved this so-called "Basel Problem" in close collaboration with the circle of mathematicians made up by his colleagues and friends from the Bernoulli family, outlining at the same time a promising path through the mysterious labyrinth of the prime numbers.
The scientific plan of the exhibition was established by Dr. Fritz Nagel with the assistance of Sulamith Gehr; Cornelia Meyer and Trinidad Moreno were responsible for its realization and design.
Opening hours
Monday to Saturday 8.30 am - 10.30 pm
Sunday / Holiday closed
Free admission
There will be guided tours on
March 22nd, 2007, 6:00 pm
April 11th, 2007, 3:00 pm
April 27th, 2007, 5:00 pm
May 7th, 2007, 6:00 pm
May 22nd, 2007, 3:00 pm
May 30th, 2007, 6:00 pm
Newsletter
NEW The 6th newsletter is out now!

Read ...
Congress SCNAT
Paper of Prof. Jürgen Mittelstrass and communique on "Excellence - what does promote it and what does prevent it?".

Download ...
Comic
Euler Comic in English.

More ...
Biography
E.A.Fellmann's Euler biography available in English.

More ...
---
v1.2.07/en