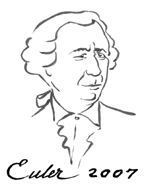 International Euler Symposium
University of Basel, Department of Mathematics
Thursday, May 31st (opening at 9:45 am) and Friday, June 1st, 2007
The symposium brings together an international group of first-rank mathematicians whose research builds on themes and results proposed and treated by Euler. In their lectures they highlight the enduring relevance and emphasize the fundamental importance of Euler's work for 21st-century mathematics.
Lectures: Alte Universität, Rheinsprung 9/11, CH-4051 Basel
Speakers
An evening lecture intended for a general audience will be held at the Museum of Natural History, Augustinergasse 2, on Thursday, May 31st, 2007 at 8.15 pm. In this lecture Craig Fraser will outline some topics of Euler's mathematical work from a historical perspective.
Newsletter
NEW The 6th newsletter is out now!

Read ...
Congress SCNAT
Paper of Prof. Jürgen Mittelstrass and communique on "Excellence - what does promote it and what does prevent it?".

Download ...
Comic
Euler Comic in English.

More ...
Biography
E.A.Fellmann's Euler biography available in English.

More ...
---
v1.2.07/en