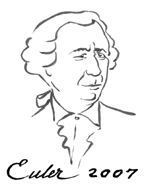 Congress of the Swiss Academy of Science
The annual congress of the Swiss Academy of Science (SCNAT) for 2007 has been allocated to Basel, at the request of the Euler Tercentenary Program Committee, and will take place at Basel University on Thursday, September 13th and Friday, September 14th.
Besides providing insights into Euler's scientific achievements - not just for mathematicians -, the Jubilee will also present an opportunity for the assembled scientists to discuss, with reference to their eminent ancestor, some questions which still challenge the community of researchers and teachers:
How can the current research topics of the individual scientific branches be integrated within a general context ?
How can we overcome the sterile confrontation between "pure" and "applied" science and the short-sighted bias in favour of immediately profitable subjects which threatens to harm the long-term perspective of fundamental research ?
How are particularly gifted students at schools and universities in a context of globalized competition to be encouraged and supported with due regard for the social meaning of education and without compromising the equality of opportunity ?
The manner in which Leonhard Euler - in his long career as the leading mathematician and physicist of his time as well as "Europe's foremost teacher of science" - dealt with these questions can certainly contribute to promote fruitful discussions both among the members of the Academy's several constituent Societies and between them, the academic and economic decision-makers and an interested public.
Communique on "Excellence - what does promote it and what does prevent it?"
Paper of Prof. Dr. Dr. h.c. mult. Jürgen Mittelstrass (Konstanz) on "To encounter excellence"
Detailed information about the organisation and the schedule of the congress:
Newsletter
NEW The 6th newsletter is out now!

Read ...
Congress SCNAT
Paper of Prof. Jürgen Mittelstrass and communique on "Excellence - what does promote it and what does prevent it?".

Download ...
Comic
Euler Comic in English.

More ...
Biography
E.A.Fellmann's Euler biography available in English.

More ...
---
v1.2.07/en