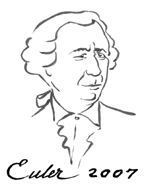 The celebration ceremony
On Friday, April 20th, 2007 - a few days after Euler's 300th birthday, a celebration will be held in St. Martin's Church at Basel, where Leonhard was baptized on April 17th, 1707. Along with representatives of the Swiss authorities, the university and the academies that Euler later helped to shape by his work, the general public is cordially invited to participate.
The program comprises a celebratory speech by a prominent speaker, addresses by the various delegations and the first performance of a piece of music specially commissioned for this jubilee. Afterwards the government of the canton Basel-Stadt offers an aperitif in the Blue House.
Newsletter
NEW The 6th newsletter is out now!

Read ...
Congress SCNAT
Paper of Prof. Jürgen Mittelstrass and communique on "Excellence - what does promote it and what does prevent it?".

Download ...
Comic
Euler Comic in English.

More ...
Biography
E.A.Fellmann's Euler biography available in English.

More ...
---
v1.2.07/en