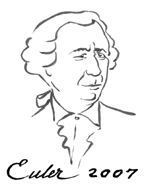 Activities by other organisations
Leonhard Euler's world-wide significance is mirrored by the fact that, besides the Euler Commssion in Switzerland, many other organizations are planning their own activities for the 300th anniversary of of his birth. Please consult the websites of:
Events
Exhibitions and Shows
Publications
... and else
If you want to place another link on this page, please approach the Program Committee.
Newsletter
NEW The 6th newsletter is out now!

Read ...
Congress SCNAT
Paper of Prof. Jürgen Mittelstrass and communique on "Excellence - what does promote it and what does prevent it?".

Download ...
Comic
Euler Comic in English.

More ...
Biography
E.A.Fellmann's Euler biography available in English.

More ...
---
v1.2.07/en