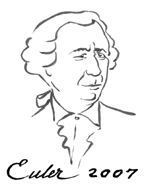 Program Committee
The Euler Tercentenary is held under the patronage of the Swiss Confederation, the Cantons Basel-Stadt and Basel-Landschaft, the Basel University, the Swiss Academy of Science (SCNAT), the Swiss Mathematical Society and the Basel Naturalist Society.
The Program Committee which plans and coordinates the Tercentenary activities consists of:
Prof. Dr. Hanspeter Kraft (president), Institute of Mathematics of the Basel University, president of the Euler Commission
Dr. Rudolf Andreatta, Basel Naturalist Society
Prof. Dr. Peter Buser, EPFL Lausanne, Swiss Mathematical Society
Alexander Euler, former member of the Swiss Parliament, 6th-generation descendant of Leonhard Euler's
Dr. Robert Heuss, Staatsschreiber (Secretary of the Government) of the Canton Basel-Stadt
Prof. Dr. Norbert Hungerbühler, Department of Mathematics, University of Fribourg, President of the Swiss Mathematical Society
Prof. Dr. Hans-Christoph Im Hof, Institute of Mathematics of the Basel University, Euler Commission
Dr. Fritz Nagel, head of the Basel research unit of the Bernoulli-Edition, Euler Commission
Dr. Beat Münch, Chief of Staff of the Rector of the Basel University
dipl. math. Martin Mattmüller (secretary), Euler Archive Basel, Euler Commission
Christine Valentin, eidg. dipl. PR-Beraterin / Museologin MAS, Kommunikation mit Kultur
The secretary of the Program Commitee can be reached at the following address:
Martin Mattmüller
Euler-Archiv
Arnold Böcklin-Strasse 37
CH-4051 Basel
Tel. (++41) 061 271 49 83
E-Mail info @ euler2007.ch
Newsletter
NEW The 6th newsletter is out now!

Read ...
Congress SCNAT
Paper of Prof. Jürgen Mittelstrass and communique on "Excellence - what does promote it and what does prevent it?".

Download ...
Comic
Euler Comic in English.

More ...
Biography
E.A.Fellmann's Euler biography available in English.

More ...
---
v1.2.07/en