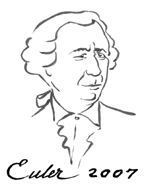 The musical program
For the Euler Tercentenary a composition has been commissioned from the renowned Polish-Swiss composer Bettina Skrzypczak. This piece for two voices and chamber orchestra, based on texts taken from Euler's Theory of Lunar Movements (1772) and Essay on a New Theory of Music (1739), saw its debut performance during the celebration on April 20th, 2007.
During the annual Congress of the Swiss Academy in the evening of Thursday, September 13th at 8:15 pm a concert will take place in which this new composition is combined with mathematically inspired pieces from the 20th century and works by some contemporaries of Euler's. The concert will take place in St. Peter's church.
Programm
Collegium Novum Zürich
Sylvia Nopper, Sopran
Bjørn Waag, Bariton
Rüdiger Bohn, Leitung

Johann Sebastian Bach/Peter Maxwell Davies: Zwei Präludien und Fugen in cis-Moll und Cis-Dur (1972–74)
Jean-Philippe Rameau: Six Concerts (1741) – 5th Concert
Bettina Skrzypczak: Anomalia Lunae media für Sopran, Bariton und 15 Instrumentalisten (2007)
Johann Sebastian Bach / Raymond Meylan: 14 Kanons über die ersten acht Fundamentalnoten der Aria aus den Goldberg-Variationen BWV 1087, instrumentiert für Ensemble von Raymond Meylan (1978)
Iannis Xenakis: Palimpsest für Instrumentalensemble (1979)
Jan Dismas Zelenka: Concerto in G-Dur für acht Instrumente ZWV 186 (1723)
Advance booking at:
Musik Wyler, Schneidergasse 24, 4051 Basel, Tel. 061 261 90 25
Downloads:
Newsletter
NEW The 6th newsletter is out now!

Read ...
Congress SCNAT
Paper of Prof. Jürgen Mittelstrass and communique on "Excellence - what does promote it and what does prevent it?".

Download ...
Comic
Euler Comic in English.

More ...
Biography
E.A.Fellmann's Euler biography available in English.

More ...
---
v1.2.07/en