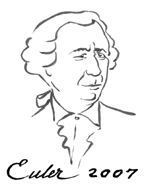 Press / Media
March 15th, 2007, 2:00 pm (in German)
Press conference on the exhibition "Leonhard Euler and the delights of science" in the Public Library of the University of Basel, Schönbeinstrasse 18-20 (near Spalentor)
November 27th, 2006 (in German)
Das erste Highlight des Euler-Jubiläumsjahres: Der historische Comic "Leonhard Euler - ein Mann, mit dem man rechnen kann"
Newsletter
NEW The 6th newsletter is out now!

Read ...
Congress SCNAT
Paper of Prof. Jürgen Mittelstrass and communique on "Excellence - what does promote it and what does prevent it?".

Download ...
Comic
Euler Comic in English.

More ...
Biography
E.A.Fellmann's Euler biography available in English.

More ...
---
v1.2.07/en